Biography
Balraj Khanna was born in the Punjab in 1940, and studied for an English Masters at Punjab University in Chandigarh, Northern India before coming to England in 1962 to study English Literature at Oxford University. However, due to the turmoil caused by the war between India and China, he was unable to continue his studies. It was this twist of fate that led him to painting, eventually becoming, in Bryan Robertson's words, "one of the most distinguished painters living in England."
Entirely self-taught, Khanna is a highly original artist whose work encapsulates his own aesthetic approach and vision of life. He has developed a unique language of abstraction inspired by his childhood, nature, and concepts of creation. Khanna's painterly world is populated by brightly coloured toys and puppets, joyfully boyant in shimmering seas of colour. The inclusion of sand, which Khanna mixes with the primer, and a meticulous spray technique, allow Khanna to achieve finely textured, luminous grounds where cut-out figures float weightlessly.
Khanna has been an influential player in the art world for over 50 years, as an artist, Indian Art expert, and curator. He is the author of one of the largest public artworks in the UK, the Curtain commissioned by Birmingham Hippodrome Theatre, was the curator of a series of seminal Hayward Gallery touring exhibitions of historic and contemporary Indian art, and his work was included in the celebrated TATE exhibition Artists and Empire. Khanna is also a prolific and acclaimed author, whose book Nation of Fools was judged as one of the 200 best novels since 1950. Khanna's latest novel, Line of Blood, was released in 2017.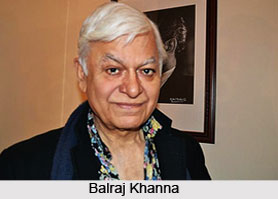 Shop
No products were found matching your selection.