Biography
Hermann Mejía is an American visual artist with Latin American roots. Born in Caracas, Venezuela, he currently lives and works in Brooklyn, New York. As a teenager, Mejía become involved in the street art scene in his native Caracas, painting street corners and main thoroughfares in the city with distinctive tags and murals. Mejía pursued his interest in art making, studying illustration and painting at Caracas Design Institute, and through his subsequent collaboration with MAD Magazine – which began in 1997, and continues to the present day.
Alongside his work in comics and illustration, in 1995 Mejía began exploring fine arts as a means of personal expression, developing a unique painterly language that blends together elements of street art, cartoon illustration and contemporary abstraction.
In his work, Mejía's dissolves scenes of daily life into dynamic compositions, blending elements of figuration and abstraction to alter the perception of reality through the prism of painterly illusion. Inspired by the striking landscape of his native Venezuela, as well as the urban jungle of New York where he resides, Mejía distorts, deconstructs and abstracts figurative elements through his broad, colourful and gestural brushstrokes. Figurative shapes, faces and bodies evaporate, implode and fragment to create a whole where the referent object is not always visible at first sight. Only through careful consideration of the painterly chaos can the eye of the viewer make sense of the subject matter beneath the abstract composition.
Hermann Mejía's work has been featured in numerous group and solo exhibitions in the USA and internationally. His work has recently been the subject of a retrospective at the Contemporary Museum of Caracas, Venezuela.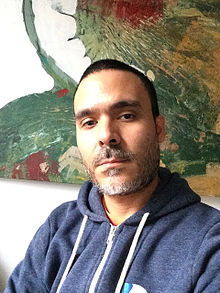 Shop
No products were found matching your selection.