Biography
Lulu Manasseh is a British artist/maker living in London, England.
Manasseh studied at Wimbledon School of Art and then went on to Leeds Metropolitan University completing a Bachelor of Arts in Three-Dimensional Design.
Her work has been exhibited in important UK institutions including The Royal Academy of Arts and The Design Museum in London. She has created murals and public art for various London venues.
Manasseh was awarded 'Young Designer of the Year,' by the Royal Society of Arts in 1992. With the travel bursary she travelled and explored the art and cultures of South America, India and parts of Asia. More recently her travels have taken her back to India and to Morocco.
Deeply influenced by the wisdom traditions, alchemy and the healing arts, Lulu transcends the idea of painting as a window to fantasy worlds and fictitious stories. She presents objects of healing and transformation through grounded reality. Free from mental constructs. A place of relationship and genuine connection.
Invoking, Inspiring, Inviting.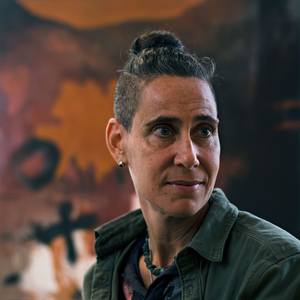 Shop
Showing the single result
Showing the single result