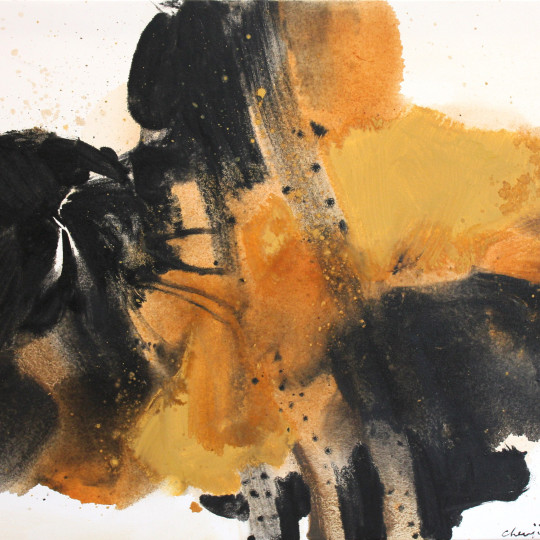 Gallery Elena Shchukina presents Returning Home, an exhibition of ink wash and oil painting by
Paris-based Chinese artist Chen Jiang-Hong.
The exhibition, Chen's first with the gallery, will open on 3rd November to coincide with Asian Art in London.
Chen's work is characterised by a chaotic serenity: at once explosive and calm, dynamic and tranquil. Chen has developed his unique aesthetic by merging Eastern and Western painting traditions, profoundly influenced by his own experience of living between two cultures.
With his painting, the artist wishes to 'bring the culture to which I am attached to life, to allow it to cross boundaries, and to allow others to be a part of it. I try to tell stories in such a way that they become universal.'
His process of dripping, sweeping and splashing inks and oil with long wolf-hair brushes, on canvasses laid directly onto the floor, at once references Chinese calligraphy and the tradition of Western abstraction. Chen's cultural syncretism is the means by which he captures the essence of a subject.
For a fleeting moment, when looking at Chen's work, the black, red and ochre strokes and washes seem to coalesce into a recognisable symbol – a lotus flower, a bamboo stalk – but soon the image falls back into the turmoil of abstraction, producing a sensory experience of the illusion of form.
To transcend form thus for Chen is first and foremost an earthbound process, his canvasses a ground onto which margins break, colours bleed, and form is eventually shattered. Chen's are pictures of pure matter and energy, within them, the memory of the artist's own process and the promise of infinite dynamic creativity. At once fleeting and eternal, Chen's stories become truly universal.