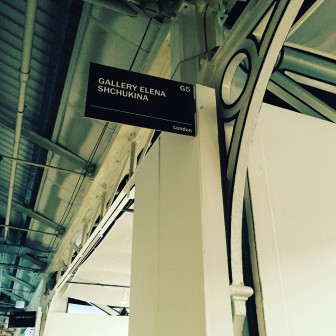 This year's London Art Fair saw Gallery Elena Shchukina uphold its position as a nexus for international artists being represented in the city.
On display were enigmatic works from South Korean artist Seung-Hwan Oh and British sculptor Luke Jerram, both of whom were featured as part of the gallery's recent exhibition Impermanence: The Art of Microbiology, which considered the bridge between art and science.
On the opposite wall, we displayed a large-scale abstract work by Danish artist Christoffer Joergensen, alongside a wall piece by Xawery Wolski, whose eye-catching sculpture 'White Knot' drew many visitors into the space. Wolski's pieces, with their geo-crystalline inspiration and ethereal embellishment, reveal the profound influence of his dual Polish-Mexican heritage upon his practice. At the centre of the stand stood works by Rikizo Fukao – striking stand-outs from his exhibition Black & Red Compositions, which is on show at the gallery until 5th February.
The gallery enjoyed a great deal of attention as part of the fair's own events programme, featuring in a photography-focused tour on the Wednesday, as well as in a lecture tour on art from emerging markets, hosted by Sotheby's Institute over the weekend.