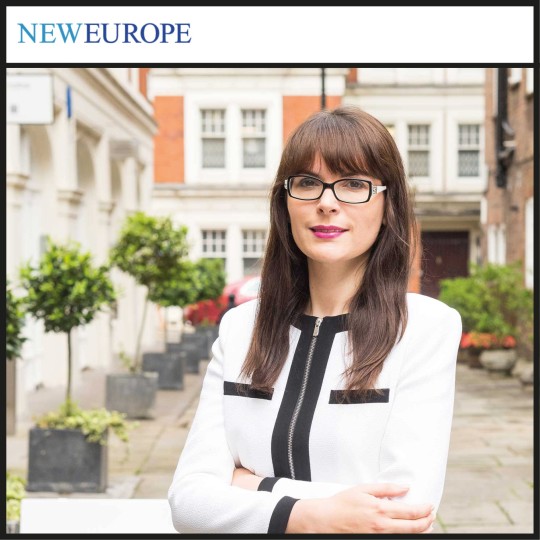 New Europe profiles Elena Shchukina, and how she has established herself as a respected voice to critique, support and challenge established artistic conventions.

"The art world has always suffered from two main afflictions. It has long struggled to rid itself of an air of exclusivity; a seminal private members club which one cannot join without mixing in the right circles or being blessed with deep enough pockets. It's also traditionally been seen as an all-boys club, ignorant or dismissive of the impact women have had throughout history. Try and name five artists off the top of your head, who do you think of? Van Gogh, Da Vinci, Rembrandt, Pollock, Turner?
However, today, while the presence of women in the corporate boardroom leaves a lot to be desired, the cut-throat modern art scene is one industry where it appears that things are finally beginning to change.
Europe's art scene is increasingly dominated by female gallery owners, curators and dealers. The National Museum of Women in the Arts in the U.S. states that 51 per cent of visual artists today are women. From Penelope Curtis to Sadie Coles, women are increasingly taking over the establishment. So, who exactly are the women setting the standards for everyone else?
Of course, the industry is full of influential, long-established and successful women: Amanda Sharp, co-founder of Freize Art Fair; Iwona Blazwick, the revered gallery director tipped to take over from Sir Nicholas Serota at the Tate, and the grand dame of the art world, Victoria Miro. But it is at the grass- roots level that the impact is being felt the most.
Profile2Elena Shchukina is one of a new generation of gallery owners and curators to break with tradition. In the five years since she opened Gallery Elena Shchukina in London's Mayfair, she has established herself as a respected voice to critique, support and challenge established artistic conventions.
Her raison d'etre is to provide a gallery venue that supports international contemporary artists who have never before exhibited in the UK. While many galleries function mainly as a commercial shop-front, Gallery Elena Shchukina is more than just a space for exhibitions – she is blazing the trail in the quest to make art more accessible.
Increasingly becoming a cultural hub for discussion and education in the visual arts; each of the Gallery's exhibitions, which Elena curates herself, is accompanied by a comprehensive lecture programme, allowing guests to discover the inspiration behind the artists' work at first hand. In a world where many independent galleries are often seen as unwelcoming, judgemental and critical of patrons who may simply want to learn and enjoy art, this refreshing approach to personal interaction at the Gallery is the foundation that underpins Elena's ethos.
After qualifying as a lawyer in Russia, Shchukina decided to pursue her longstanding passion for art, and began a course in Interior Design and History of Art at the Moscow Design Academy in 2006. She continued her studies at the Istituto Marangoni in Milan the following year, before moving to London where she trained under the tutelage of the renowned portrait artist Israel Zohar. With her artistic appetite still not fully satiated, she then spent the next three years studying at the prestigious Sotheby's Art School and Christie's Education.
Outside of her gallery work, Elena is a member of AWAD; the Association of Women Art Dealers and a Patron of the Royal Academy of Arts. Through these associations, her position and influence within the art world has continued to grow, with Shchukina establishing a network and profile that has gone a long way to raise the profile of previously under-represented or under-appreciated artists.
The Gallery participates in a number of international art fairs, including: the London Art Fair, Masterpiece, START and Art Bahrain. As well as conventional art, she regularly hosts exhibition evenings, displaying the latest masterpieces from the world of fashion and jewellery, including a fashion show in collaboration with SAFiYAA and the Italian jewellery brand Damiani.
In 2016, the Gallery drew critical acclaim for its joint exhibition featuring the works of Luke Jerram and Seung-Hwan Oh; Impermanence: The Art of Microbiology. Stand-out pieces included a glass sculpture of the HIV virus magnified several million times, and photography, where live viruses and cultures were exposed to the film, creating masterpieces both beautiful and disturbing in equal measure.
By hosting artists and exhibitions that cover such relevant and topical issues, using such an alternative approach, and appealing to an eclectic audience, the Gallery is making leaps and bounds in attracting a young, new and curious audience to the art world. Through this momentum, Elena has positioned herself as one of a rising tide of female curators and gallery owners, educate on what art can mean to different people while equally championing art that defies the definition of what we have historically understood.
Beyond the traditional exhibits and shows, a rising number of artists and gallery owners are now using their platform to promote worthy philanthropic causes, and Shchukina is one of them. A young mother with two children, she especially believes in the importance of providing underprivileged children with the opportunity to access art and artistic education. In August 2015, the Gallery organised a workshop for disadvantaged children by artist Annya Sand and in 2016 played host to a tea party in aid of Action for Children. Gala evenings are a frequent occurrence too, whereby a percentage of proceeds from sales goes towards children's charities.
The Gallery will next present 'Locating Oneself', an exhibition by PROJECT 2017 winner, Lulu Manasseh. Launching on 8th February, Elena continues her mission to provide a platform to champion up and coming artists through this journey of shifting perspectives and ideals."
New Europe