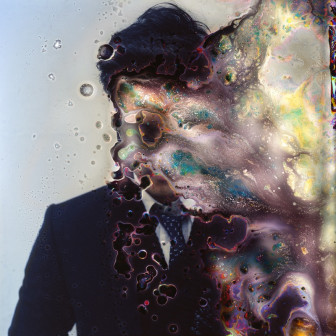 Our current exhibition Impermanence: The Art of Microbiology shows the work of two artists, Luke Jerram and Seung-Hwan Oh.
Oh, a photographer who manipulates his photographs using bacteria to break down and distort the original images, is from South Korea. It was therefore very fitting that we feature his work as part of our participation in Asian Art in London, which ran from 5-14 November.
Now in its 18th year, Asian Art in London celebrates the diversity of work created by Asian artists and encompasses everything from ancient Chinese ceramics and manuscripts to contemporary art.
It was a week packed full of activity, starting with a fascinating symposium on the The Psychology of a Collector and a Gala party at the Mandarin Oriental, followed by a vast array of auctions, lectures and receptions.
  On 9th November, Gallery Elena Shchukina hosted the private view of Seung-Hwan Oh's photographs. It was a pleasure to see such a discerning and diverse crowd of visitors for the event.
Oh's artistic practice uses photography as a starting point in creating images that he subjects to decay by cultivating bacteria on the film. The bacteria colonise the surface of the film, eating away at some parts of the colours and creating new forms. The work is an examination of the second law of thermodynamics, which states that matter cannot be created or destroyed, but merely changes form.  We were honoured to have the artist himself present at the private view, who flew in from Seoul specifically to attend. He also gave a talk, which was followed by a lively Q&A; session.
Earlier this year, the gallery had also exhibited new sculpture by Katusha Bull at the 2016 Masterpiece fair in Chelsea, on the Asian Art in London stand. We are delighted that we were able to continue our partnership with such an exciting organisation by presenting Oh's work during the week itself.