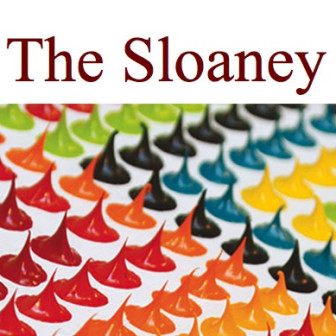 With galleries in Knightsbridge and Mayfair, owner Elena Shchukina has united collections of exquisite artwork with innovative interior design.
Her latest feature exhibition features the work of French Laure Hatchuel-Becker, whose Form and Colour collection establishes a new take on indigenous artwork created with a multitude of dots. With textured canvases and eye catching geometric patterns, Hatchuel-Becker's artwork is full of potent symbolism.
The Champagne and canapé launch party for Hatchuel-Becker's first UK solo exhibition was held at the chic Knightsbridge gallery, moments from Harrods' recognisable location. The glamorous gallery space was filled with art lovers and enthusiasts, with Hatchuel-Becker and Shchukina elaborating on the inspiration for the works on show.
The striking artwork was complemented by Noi Paris furniture, with pieces such as the Opus Chair utilising a traditional armchair style with a modern twist of an orange and green "Crazyglass" finish. Also on sale were Yaelle scarves, adorned with the Gallery Elena Shchukina logo and a colourful dotted pattern that echoed Hatchuel-Becker's work.
The Hatchuel-Becker Form and Colour exhibition will run until Saturday the 21st of June 2014 in the Knightsbridge gallery in Beauchamp Place. Further details can be found at www.galleryelenashchukina.com.