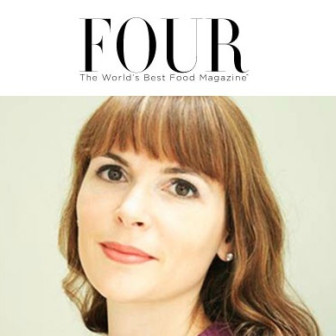 Siberian-born gallery owner, curator and artist Elena Shchukina tells FOUR about her perfect 24-hour layover…
I would wake up in…
Paris
I would stay at…
Hôtel Le Bristol, which is in the heart of Paris's fashion, design and art district. Le Bristol opened in 1925 and is famous for its historic architecture and luxurious interior.
When we travel with our daughter, we really appreciate the hotel's child-friendly atmosphere, including its kids' menu, children's programme, and Fa-raon, the cat Le Bristol has adopted. Docile and affectionate, Fa-raon welcomes guests and is the hotel's new playmate for children.
Breakfast would be…
If not at the hotel, then at Eric Kayser, one of the best bakeries Paris has to offer.
It has lovely almond croissants and delightful coffee.
I would wear…
Day: Isabel Marant jeans and a Vanessa Bruno jacket – they are not only great French designers but also Parisian!Evening: A dress by Victoria Beckham.
Travel essentials:
iPad, Kindle, sunglasses
I'd listen to:
Celine Dion, Mariah Carey
And visit…
Centre George Pompidou, Montmartre, Place des Vosges and its nearby galleries.
Have lunch at…
Café L'avenue. The second floor with open windows looking down on Avenue Montaigne is the place to be on a balmy spring day. Food is impeccable and service is of a high standard – an elegant mix of Italian-French cuisine.
Dinner…
Lasserre is an exceptional restaurant. It has counted Audrey Hepburn, Salvador Dali and André Malraux as regulars and continues to attract an interesting crowd. The sumptuous upstairs dining room has a retracting roof which opens at night, allowing one to see the stars up in the sky. In addition to this, the food is divine!
Buy…
I like shopping at Montaigne Market. It's Paris's first multi-brand designer boutique with over 60 international designers offering enticing prêt-à-porter.
Hang out with…
My husband when we visit the city together or my mother, who adores Paris.
Relax at…
The Tuileries Garden is lovely. Adults can admire the outdoor sculptures, many of them dating back to the era of Louis XIV as well as more recent works. Children get to enjoy the playgrounds, pools, pony rides and even a large funfair during the summer months.
Drink…
French wine or champagne
Chat with…
Mrs Corinne Sananes, a family friend. She's a charming lady as well as a great interior designer.
Why Paris?
It's not far from London, where I live. I speak French and Paris is a city full of wonderful tourist attractions including world-class art galleries and museums, gorgeous parks and gardens. It's such a romantic and artistic place.