Biography
Chen Jiang Hong (b. 1963) is a Chinese artist based in Paris.  He began his fine art study at the School of Arts in his hometown of Tianjin (1982), and completed his postgraduate education at the prestigious China Central Academy of Fine Arts in Beijing (1987).   Upon graduating, he left China for Paris, where he spent a year at the Ecole des Beaux- Arts (1988) before embarking on his professional art career.
Chen has mastered the technique of manipulating ink and oil freely on a canvas to explore a unique aesthetics, merging Eastern and Western painting traditions. His work depicts classical Eastern motifs such as lotus flowers or bamboo. Sweeping, dripping, and splashing ink and oil with a limited palette of hues ranging from black, white, red, or oak, the dynamic brushstrokes create a great sense of power and vitality. Yet at the same time, Chen juxtaposes the expressive foreground against a quiet, unassuming background to suggest a sense of tranquillity and spirituality. Chen's sophisticated imagery is profoundly influenced through his experience of living in two differing cultures.
Chen's work has been exhibited worldwide, with particularly strong exhibitions in China and France. He has been featured in exhibitions the library gallery at the Louvre, at the Centre Pompidou, and at Versailles.   His work is in the permanent collection of the Snite Museum at the University of Notre Dame.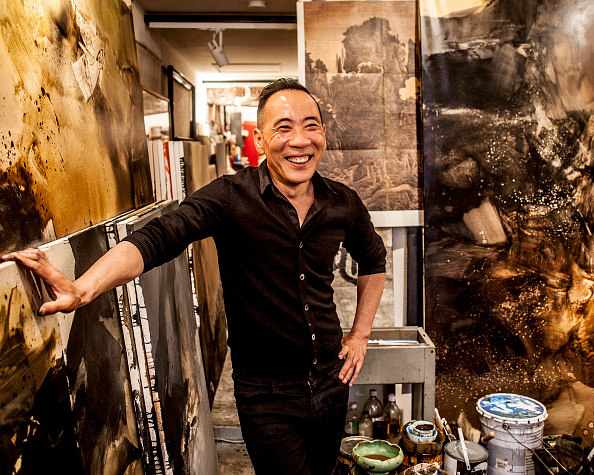 Shop
No products were found matching your selection.