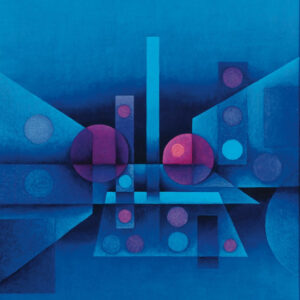 Gallery Elena Shchukina is pleased to present the first ever UK exhibition of works by Franco-Uruguayan artist Miguel Kohler-Jan (1929 – 2011). The show focuses on Kohler-Jan's vibrant oil paintings as well as his more muted natural sand on canvas pieces. The oil works incorporate a combination of numbers, letters and geometric shapes. The sand works echo pre-Columbian designs and the role of the military in South American politics.
An innovative artist who embraced variation as a means to explore and understand form, Kohler-Jan's two great passions were art and Latin America. Having completed a Law degree at the University of Paris, Sorbonne in 1955, he soon after moved to Montevideo, Uruguay. He made the small nation his home until his return to France in the early 70s.
Kohler-Jan studied art in Uruguay and travelled Latin America extensively. He not only represented Uruguay internationally as an artist but also occupied the position of Superintendent of the National Commission of Fine Arts of the Republic of Uruguay (1962-1968).
Kohler-Jan resorted to volumetric elements and shades of colour to bring about order in his compositions. His techniques give the impression of depth and movement.
Keeping in line with the gallery's signature concept, art, furniture and objects come together to create an immersive aesthetic experience.
Miguel Kohler-Jan has shown in various museums including the Museo de Arte de Ponce (San Juan, Puerto Rico), the Moravian Museum (Czech Republic), National Museum of Visual Arts (Montevideo, Uruguay), amongst others.  He has participated in exhibitions, festivals and biennials including the Festival de Cagnes-sur-mer (1969,1971), Biennial of Segovia (1972), Biennial of Graphic Arts, Ljubljana (1973, 1975, 1987, 1989), Egypt International Print Triennial, Giza (1997, 2000, 2003, 2006), the Human Rights exhibition of Florianópolis, Brazil (1988), 1st Exhibition of Miniature Prints of Beijing (1998), Festival of Evora (2001, 2004, 2006) and many more. Kohler-Jan has won Czech Peace Council Award (1984) and received honourable mentions at various biennials and festivals. He spent his latter years living and working in Nice, France.